Lasagna is Garfield's favorite dish & one of mine, too.
Lasagna can be made with or without meat, and any combination of veggie ingredients can find there way into this dish.  You simply need Lasagna Noodles, make sure if they need to be cooked first or not, and some way of making a 'mash' sauce, preferably with tomato sauce and beef.
Cheese is often a hefty part of good lasagnas, mixing and matching in layers, then melted together… oh baby, I just drooled on the keyboard. Pardon me. It's not impossible to make a great lasagna without cheese, today I'll be making both.
As for specific ingredients to build your lasagna I like ground beef, beans, and a mixture of diced veggies.  Thing is, this dish is also great for including leftover ingredients like pasta sauce, sausage, hamburgers or bean salads.
| | | | | |
| --- | --- | --- | --- | --- |
| Prep: | Cook: | Ready: | Serves: | Cost: |
| 10m | 40m | 50m | 4 | $8.00 |
Click to expand - use your arrows like a champ:
Starting with the lasagna noodles – examine the cooking directions on the noodle box to figure out if they need pre-cooking or not.  Also, ensure you have a pan, or pans, deep enough and well-fitting for the noodles you will be using.  we intend to STACK LAYERS of noodles in between what we slow cook to create our lasagna.
Beans may take a while if you start with them dry. It is very cost effective and dry beans have a long shelf life. But you'll need a whole day to soak most dry beans from scratch. Canned beans or chili are a great way to get this started quickly.
Step 1: Add 1 full-diced red or white onion to Dutch-oven pot (or slow roaster) with olive oil.
Step 2: Include beef and veggies and/or cooked beans and potatoes – to slow cooker/dutch oven.  Set Dutch-oven on the stove at half-heat, in order to cook the beef and simmer all ingredients into a thick paste.
Step 3: Start on 350º for 20 mins total. Reduce heat gradually over time.  Stir to make a delicious 'mash'.
Step 4: After prepping the base sauce, (mash,) and setting up the appropriate pan for baking, let's make the LASAGNA LAYERS.
Step 5: Starting with an un-oiled pan simply lay the first noodle(s) in and cover with the base sauce.
Step 6: Create layers of noodles, sauce, and cheese as desired.  Cheese that is first mixed with egg, will taste richer and will hold together evenly.
Take a tasty swig… mmmm
Step 7: Once the pan is filled with noodles and sauce complete with a final layer of cheese and cover with tinfoil.  If you think it may be too runny, you can poke holes in the tinfoil, (thus baking the top layer to a crisp.) or you can leave it fully covered and that will lock in the moisture.
Finally, serve lasagna with fresh salads and a white wine.  Give 'er a go.
Lasagna – leftovers best friend.  Mash it all up in a pot, add tomato sauce and layer it between noodles in a dish.  So simple, plus it makes perfect frozen leftovers for a later day.
Summary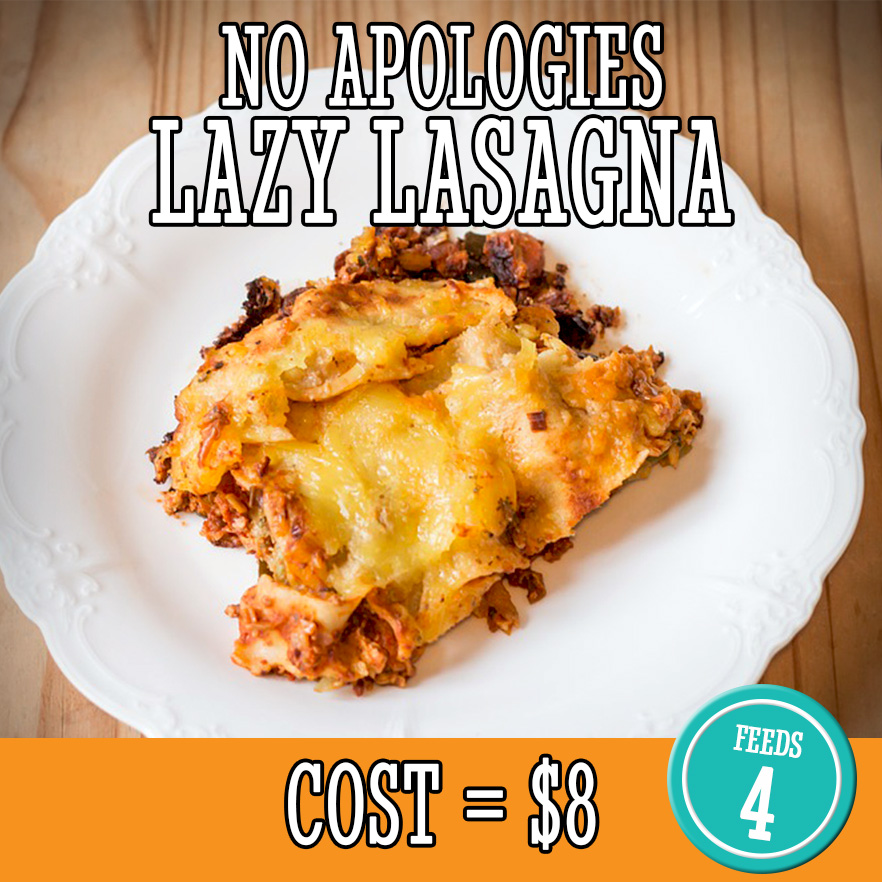 Recipe Name
Author Name
Published On
Preparation Time
Cook Time
Total Time